Country Place Travel,
Thank you for following up on our Costa Rica trip. We had a great time and everything went like clockwork. Your agent in Costa Rica (Destination Costa Rica) was very attentive and helpful, making sure that all arrangements were taken care of. Henry Rodriguez at D.C.R. was especially helpful when I needed to make a small itinerary change.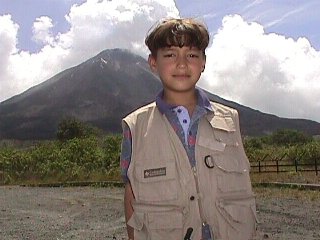 I can't thank you enough for arranging this trip for us-especially at the last minute. When I asked my son, Christian (pictured), what he liked best, he couldn't decide between the volcano, Tabacon, beach, rainforest hiking, or canopy tour. He thoroughly enjoyed the whole experience.

As someone who travels all around the world, I found Costa Rica to be very accessible, while not being too touristy or too challenging. My colleagues here in Moscow think that I'm being paid by the Costa Rican Tourist Board because I spoke so highly of my time there, and in fact, our Office Manager (a Russian) plans to go there later this year; based solely on my pictures and testimony.

Thanks again for arranging such a wonderful trip for us, and I will certainly entrust you with my travel plans in the future.

Jeff Kinney

Please note,
No problem regarding the use of the e-mail that I had sent to you. Thank you very much for asking my permission first. Again, thanks for all of your help regarding my trip, and I look forward to doing business with you again in the future.
Jeff Kinney
Please send us your comments.