Lawton,

Just wanted to let you know we had a great time on our trip to Alaska. All of the people we met were extraordinarily friendly and helpful.

On Memorial Day we walked around Ship Creek in Anchorage watching the locals fish for king salmon. We ran into a young man and his son waiting for low tide since he thought the fishing was best then. He offered to let us fish with his equipment while they waited for the tide to go out. I told him I hadn't come prepared to fish and didn't have licenses. He then asked if we had seen the whales. I told him no and asked where we could see the whales. He told me the best place was about 15 miles outside Anchorage and gave me directions. I told him we had not rented a car and were going to travel by train, boat and helicopter. He then pulls out the keys to a brand new Ford van he had recently purchased, pointed to it in the parking lot and said "Here, take my van. My son and I will be here when you get back. You can leave the keys in it when you get back". We were stunned! We had met this man only 10 minutes earlier and he offered me the keys to his new van...it was unbelievable.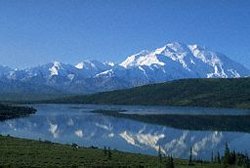 We appreciate your advice to spend more time in Denali. The weather changes quickly and is very unpredictable as you know. Without the extra days in Denali, we would have never gotten the beautiful, crystal clear view of Mt. McKinley from Stony Hill. The entire ride into the park was great with many, many sightings of bear, sheep, elk and moose.

The helicopter trips were breathtaking and unbelievably smooth. We had to rearrange the schedule a little, primarily because of the weather, but the views were fantastic. We were not able to go heli-hiking because of the weather and opted for the glacier landing instead. It was great.

We had no problems at all with any of the arrangements. We really enjoyed the Sourdough Cabins in Denali and the Wedgewood Resort in Fairbanks was very nice.

The Alaska Railroad was wonderful. We had never been on a train and thoroughly enjoyed it. All of the people associated with the railroad were super. The Alaska Railroad cars were clean and comfortable with even more room than the McKinley Explorer dome cars. And the view from both was incredible.

Now we canít decide if we would take a cruise next time or another land tour...so much to see and not enough time. But Iíve promised Dale a trip to the beach before that, an Eastern Standard Time Zone beach. The jet lag makes you feel as if you need another vacation.

We really do appreciate all your help and advice. It was invaluable.

Thanks again,
Stephen Moore


---

Lawton,

You have our permission to use whatever comments you wish on your web site. I would encourage everyone visiting Alaska to take the time to seek your advice.

They can thank me when they return......

Hopefully, we can find the time to share some pictures.

Thanks again, Stephen Moore
Please send us your comments.